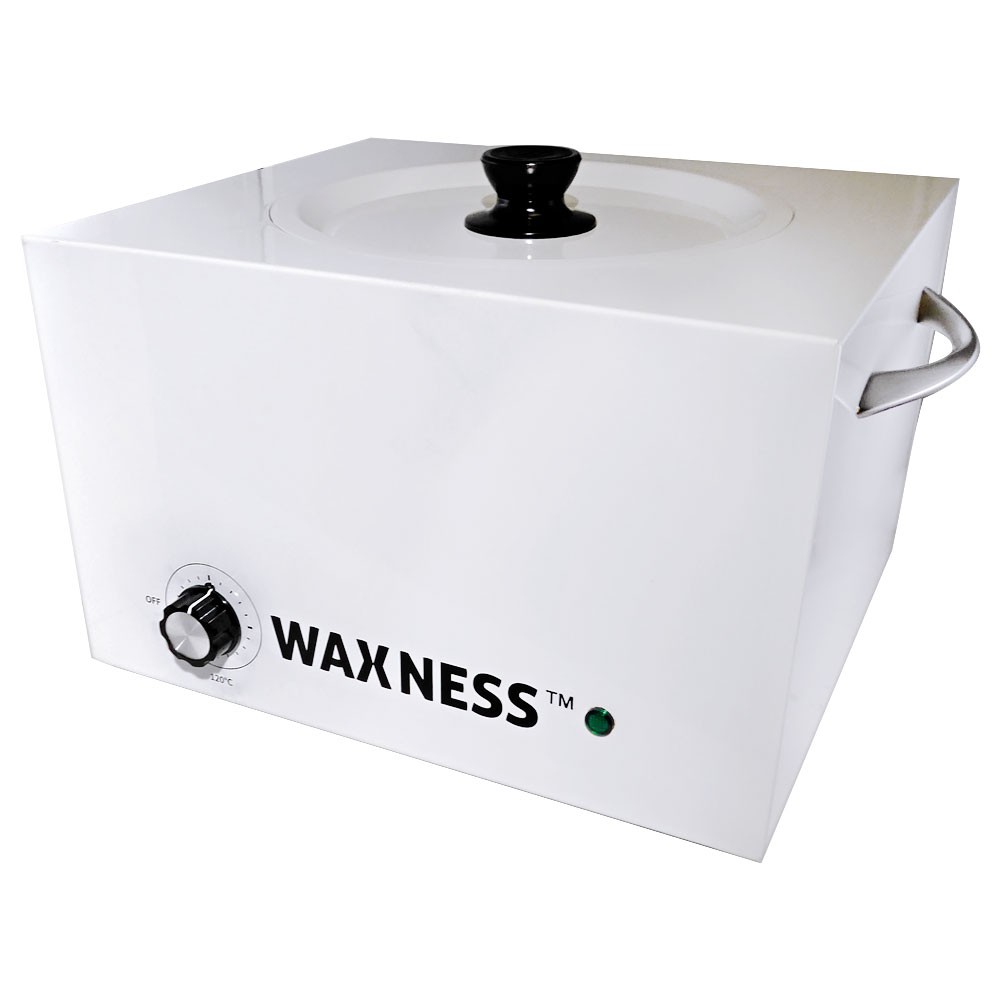 Extra Large Professional Wax Heater WN-7001 Holds 10 lb
Ask a question

(6 answered)
Reference: SKU012206
Suitable for all types of hard wax
Professional metallic external and internal construction
Holds 10 lb wax
500W heating power
1 year limited warranty
Professional Metallic External and Internal
Construction
Size of the pot: Width 8" X Height 6.5" (Width 203mm, Height 165mm)
Temperature 45 to 105 C  (113 to 221 F)
Size of Heater: Width 14" X Depth 11.5" X Height 7.75"
Holds 10 lb of wax
Power 500W
1 year warranty
This high-capacity wax warmer is suitable for high volume waxing businesses and it is professionally build to provide many years of service.<be>
Measurements of the heater:<br>
14 inches L, 11.5 inches W (from front to the back), 7.75 inches H
UPC: 818204028832
Reviews

Valeria
11/10/2020
Great heater
Bought it 2 weeks ago. I have one from another company and this one is working the same but is $180 less expensive !!! They told me is factory direct.
Questions
(6)
From
Niamh
|
2022-06-21 04:38:43
What temperature does the WaxnessWaxness Extra Large Professional Wax Heater WN-7001 Holds 10 Lb get up to please? I want to heats waxes and solid butters for cosmetics and need to go as high as 95 degrees C. Does it heat to this temperature?
Chris
Hello, we do not recommend this warmer for your purposes. Although the warmer may melt your waxes at 90 C this is the maximum temperature that is used for a limited time to rapidly melt the depilatory wax. The normal long-run working temperature is between 40-60 C / 104 to 140 F.


From
Tracey Johnson
|
2022-05-20 08:05:39
I have a 10lbs wax warmer from you guys. It came with like a mesh basket inside. What is that for?
Chris
Hello, the mesh container was designed to aid in fishing out implements that might have accidentally fallen inside the pot.
From
Rose Lamb
|
2022-04-13 06:38:41
is the warmer customizeable? I'd like to customize with my business name.
administrator
The warmer is not customizable unless you want to order it through Waxness Private label where minimum quantity of 300 pcs will apply
From
Gleice Fonseca
|
2021-09-12 06:18:49
Hi, where can I find protective collars for mine?
From
Mint K
|
2021-08-19 19:31:38
Image does not show wax insert. Does it come with a wax insert pot? The pot inside the pot?
administrator
Hello, this wax warmed does not have an insert pot. The wax warmers bigger than 5.5 lb do not usually have an insert pot because they will be inefficient. The was beads are poured directly into the heating chamber. Our 16 oz single and double warmers have to insert wax pots.


Your Question has been successfully sent our team. Thanks for question!
Customers who bought this product also bought: