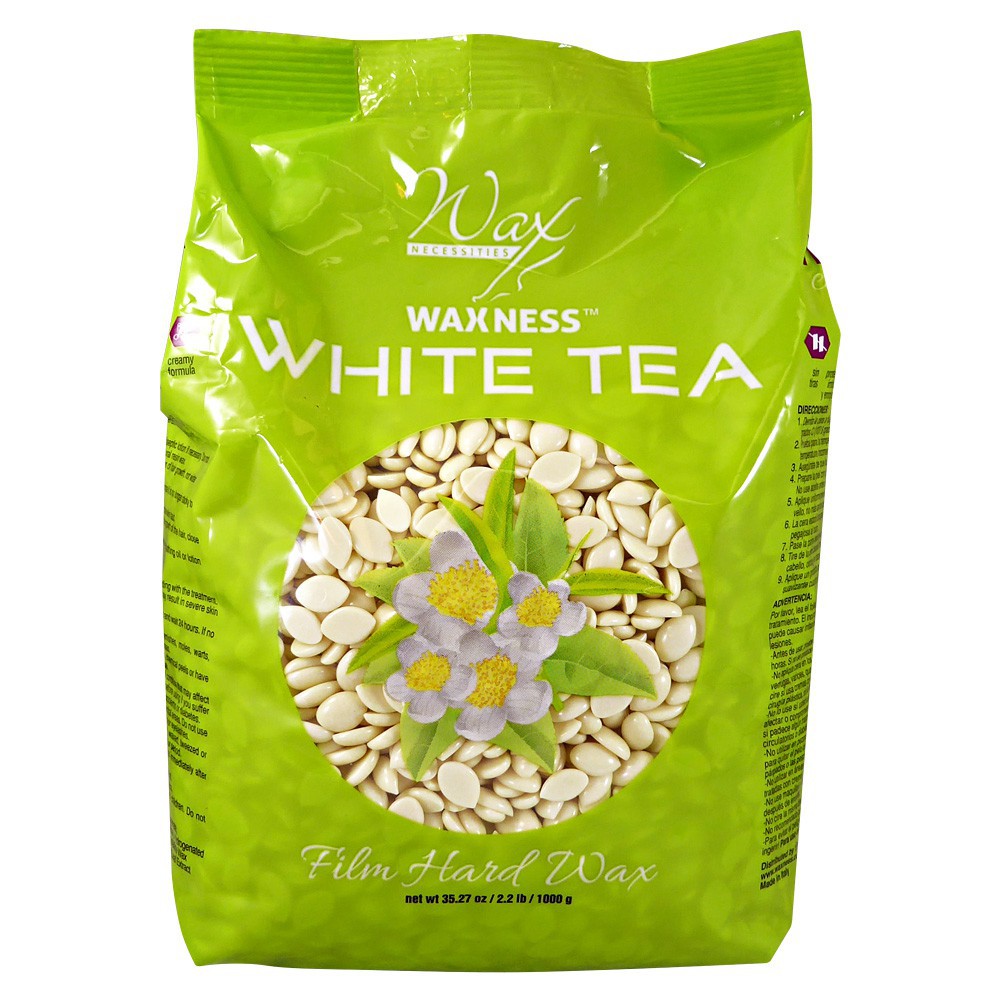 White Tea Cream Film Hard Wax Beads 2.2 LB / 35.27 OZ
Ask a question

(3 answered)
Reference: SKU008237
Natural Resin Base
For Coarse and Shorter Hair
For Sensitive Skin
Short Hardening Time
Creamy
Low Temperature
With White Tea Extract
Medium thickness wax with titanium dioxide. Characterized by high plasticity while does not create stretchy threads. Do not leave irritation or redness on the skin. Effective for removal of coarse and short hairs.
Temperature: max 42 degrees C (107.6 degrees F)
Use applicator
No strip removal.
Ingredients: Rosin (Colophonium), Glyceryl Rosinate, Ethylene/va  Copolymer, Paraffin, Beeswax (Ceara Alba), Hydrogenated Coconut Oil, Titanium Dioxide (C.I. 77891), Mica (C.I. 77019), Camelia Sinensis (Green Tea) Leaf Extract.
UPC: 869112000243
Reviews

Mousa
04/17/2023
great wax
honestly got alot of wax from different companies by far the best one i have used definitely will stay using this company

Hard wax
10/02/2023
White tea is amazing
Been researching for over a year of best wax, landed on this baby right here!!! Yessss!!!

Meeks
06/07/2021
Really good wax
This is my first time writing a review. Honestly there are pros and cons to every wax. I would like to say that I really really like this wax because it picks up medium to coarse hair, it is a little harder to pick up the finer hairs but that can be done with tweezing. The wax performs at it best in cooler temperature rooms compared to places that are warmer because it does take a bit longer to set up due to its drying time ands because its low temperature, so I recommend getting yourself a little fan to breeze the bikini area if you're in a hot/warm place. But over all, this wax is really good. Both my clients and I love it and would continue to use.

Cecithewaxer
07/29/2021
Down with the thickness
Love this wax for my thicker haired clients, gets those stubborn hairs out. One of the only waxes that doesn't roll off when you apply oil to the skin. She's a thick one, so make sure it doesn't get stuck in creasses. Sets pretty quickly for a cream wax. Don't use too warm or it'll take forever to set.

Wax gal
06/21/2020
Awesome????❤️
I recently bought this! It's a super great product! As the description says, it's great on short coarse hair! It got a lot of the little hairs that lower quality usually miss. It's also a lot of wax! Which is awesome because it'll last you a long time. I recommend 100% the price is also so good. I do not regret buying this and am excited to buy again soon.

B&Cmonee
11/10/2020
Great Wax
This wax really grabs those coarse and stubborn hairs. I love it!

anonymous
03/26/2018
Great product
his hard wax works great and is Easy to use.
Questions
(3)
From
Stephanie
|
2022-10-27 06:20:00
I have a client with very sensitive skin that tends to lift when waxed. (She has no contraindications to waxing, I'm pulling skin tight and powdering her well.) I want to give her one last try with a new wax before I tell her we can't continue. Would this be the most gentle wax? Or do you have any other suggestions?
administrator
The most gentle wax we have is Russian Pearl, Spa Choice Coconut, and Charcoal. These are creamy rosin free specially formulated for very sensitive skin.

From
Maribel
|
2021-07-17 09:18:52
Do you have wholesale options?
administrator
Please register an account on Waxness.com and after registration, you will have access to professional prices based on quantity and on wholesale price for retail items.
From
Brandie
|
2021-05-25 14:48:19
Since your out of white chocolate does the white tea work the same?
administrator
SImilar natural resin wax is White Chocolate, but with a vanilla/ white chocolate scent. ALternatively, you may use synthetic creamy resin wax such as Russian Pearl Tattoo or Charcoal.
Your Question has been successfully sent our team. Thanks for question!
Customers who bought this product also bought: