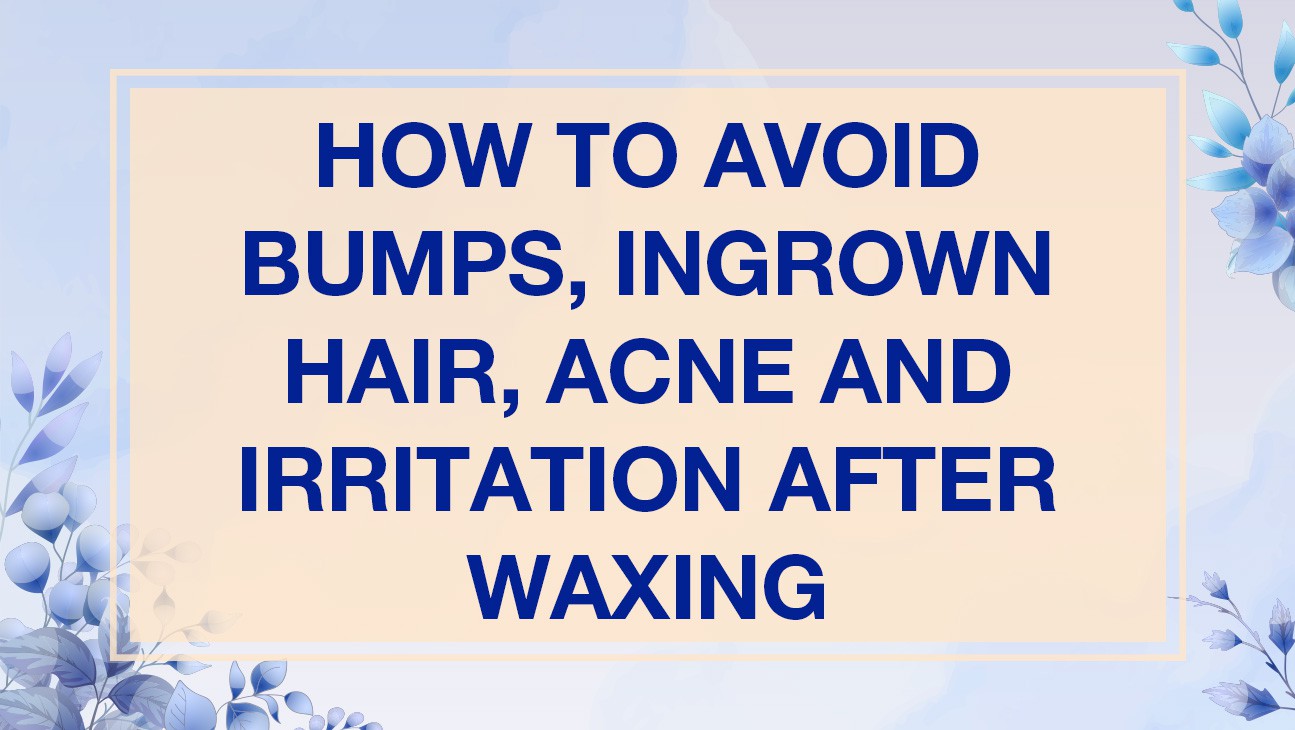 How to avoid Bumps, Ingrown Hair, Acne and Irritation after Waxing
9798

Views
1
Liked
Posted on:
August 9th 2020
No matter what the hair removal procedure is chosen, any woman expects to get a smooth and beautiful skin. Unfortunately, some people have to deal with purulent acne, which appears after hair removal.
"Can one wax with acne?" is a common question. We'll try to answer this by presenting proper skin care and lifestyle habits to help you keep your skin clear and smooth. If you follow these tips, you will successfully avoid acne after waxing.
Your relation with your skin
Beautiful, healthy skin needs daily care. If you follow the golden rules after the daily shower, on vacation, in the cold winter months, your skin will be softer and beautiful!
To have beautiful skin, your body needs a sufficient amount of fluid. Make sure you drink enough water for your body to be hydrated and limit inflammation and bacteria growth. Dry skin, beyond being an aesthetic problem, is a health problem that requires proper care.
Dry skin has the peculiarity of not retaining water and of producing sebum in tiny quantities, being characterized by dryness, roughness, lack of elasticity, tendency to wrinkle and even irritation. Oily skin is usually irritated and brittle. The more we degrease an oily skin, the more oily it becomes.
Each skin type influences hair removal. A healthy and balanced diet is not only good for your body, but also for your skin, regardless of its type. Modern life is stressful, and stress can also have a negative effect on your skin. When you are stressed, your body produces a hormone called cortisol that increases your sebum production, so your skin will become too oily or stained.
To avoid acne after waxing you have to keep skin balanced by maintaining the right levels of oil and water chemistry. In this way you reduce inflammation and you stay clear of pathogens (harmful bacteria).
Acne and wax
Inflammatory skin problems can be caused by stress, bacteria, and poor diet, among other things. Acne can develop on any area covered by hair, most commonly affecting the legs, armpits and groin. If you have such inflammatory skin issues, waxing can induce the occlusion of the hair follicle and promotes the penetration of bacteria on the surface of the skin at its level causing, in the end, an irritation.
Waxing is not recommended as long as you are being treated with Accutane, Retin A, Renova, Differin, or other skin thinning acne medications.
Lifestyle and skin health
Beauty comes from within, but external factors can influence the health of our body. Lifestyle is directly related to the general appearance of the largest organ of the body.
An unbalanced diet, poor in nutrients and essential minerals can be seen on the skin.
For healthy skin, it is advisable to choose a diet rich in fresh fruits and vegetables, low protein and, of course, consuming a sufficient amount of water (minimum two liters per day).
Ideally, one day before waxing, you should do an exfoliation shower using DR. BUMP NATURAL PRE-POST SCRUB with peppermint and apricot kernels that will prepare the skin for hair removal. Exfoliation removes dead cells, and hairs grown under the skin become easier to remove.
Pre, During and After-Wax
Always prepare the skin by cleansing first. We recommend DR. BUMP NATURAL PRE-POST LOTION WITH PEPPERMINT, SAGE, TEA TREE AND ROSEMARY, to be applied with a cotton pad. Dr Bump Natural Pre-Post Lotion removes impurities from the skin to ensure a perfect waxing and it contains 7 powerful natural extracts that help reducing irritation and bumps.
Beauticians should always wear gloves, but if you are at-home waxer, you should have clean hands when waxing.
After waxing, you are left with a beautiful and smooth skin, but extremely sensitive and that can be easily irritated. To soothe the skin, use a gentle cleansing lotion, tonic, but without alcohol, as it irritates the freshly epilated area. We recommend DR. BUMP NATURAL PRE-POST LOTION WITH TEA TREE, ROSEMARY, LEMONGRASS AND SAGE 8 OUNCES. For areas prone to ingrown hair (bikini, underarms etc) we recommend DR. BUMP NATURAL INGROWN HAIR TREATMENT ROLL-ON. Scientifically formulated with pure concentrated ingredients, Dr. Bump natural lotion is the solution to help relief skin irritation.
We offer you a comprehensive skincare guide for face and body for all skin types to use daily in-between waxing: Body. A shower is better than a bath for your skin, because the lather dehydrates it. Make sure the water is warm rather than hot. Always exfoliate the skin before showering and moisturize it with a body lotion after, while the skin is still wet.
Good After-Wax Care Tips
- Wear cotton clothes
- Avoid physical activities
- Take a cold shower or apply ice packs
- Avoid any kind of swimming in swimming pools, saunas or SPAs
- Use talc-free powder
- Before shower exfoliate with DR. BUMP NATURAL PRE-POST SCRUB
- Use DR. BUMP NATURAL INGROWN HAIR TREATMENT ROLL-ON to stop ingrown hairs.
- Apply DR. BUMP NATURAL PRE-POST LOTION to balance the skin's pH levels and to reduce inflammation.
We hope we have been helpful with all these tips and do not hesitate to contact us if you have any questions.
Comments
Thank you for the info

By : Dragos Seni

On

August 9th 2020

I liked it very much, thank you